The principal expertise of the firm is the practice of municipal law. KP Law represents over one-third of the cities and towns in the Commonwealth as their City Solicitor or Town Counsel. In addition, we provide special counsel services, including serving as labor and employment counsel, to other cities and towns, special districts, housing authorities, regional transit authorities and state agencies. The firm's broad range of practice areas includes labor and employment, contracts, real estate, land use, environmental, town meeting, government information and access, procurement and construction.
---
Changes in Massachusetts Marijuana Law
On August 17, 2017 we forwarded an eUpdate to our clients entitled, "An Act to Ensure Safe Access to Marijuana – A GUIDE TO THE REVISED LAW LEGALIZING RECREATIONAL USE OF MARIJUANA – August 2017." Knowing that communities throughout the state are likely to be addressing this issue in the months to come, we have linked that document here for your use.
An Act to Ensure Safe Access to Marijuana:
A Guide to the Revised Law Legalizing Recreational use of Marijuana
August 2017
With Sample Warrant Articles, Ordinances and Bylaws, and Ballot Question
---
Public Records Guidelines
As of July 1, 2017, the new Public Records Law requires Records Access Officers (RAOs) to prepare and post guidelines to assist persons seeking public records. If your community has not yet done so, the RAO should prepare and post such guidelines as soon as possible. The guidelines must be posted to the municipal website (assuming that the municipality has a website) and at municipal offices.
We have prepared sample guidelines RAOs may wish to use as an aid in preparing appropriate guidelines for their communities.
SAMPLE – Guidelines for Public Records Requests – PDF version
SAMPLE – Guidelines for Public Records Requests – Word Document version
The firm's Public Record Law Resource Page can be found here, or for assistance from a member of the firm's Government Information and Access Group, contact us at 617.556.0007.
---
Lawyer's Have Heart!
KP Law sponsored a team in the annual Lawyers Have Heart road race on May 31, a 5K which raised funds for the American Heart Association.  Timothy Zessin, with a time of 22:14, led a contingent of nine KP runners along the course, which wound its way along the Innovation District waterfront.  The event raised over $297,000 to benefit the American Heart Association.  This was the 10th anniversary of the LHH race, and KP Law has sponsored a team in the event every year.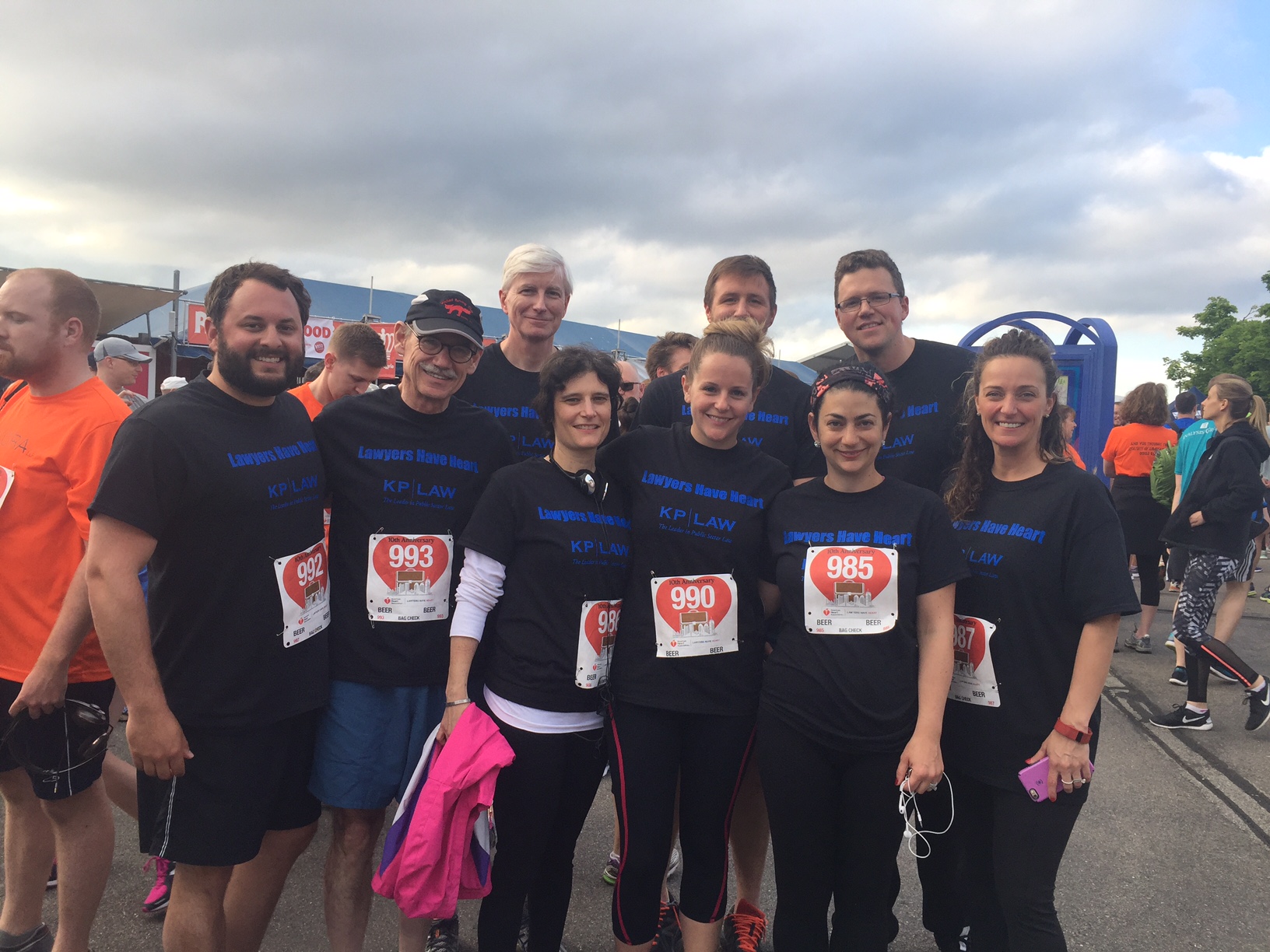 2017 Massachusetts Municipal Association Annual Meeting Handouts
 Links to each handout from the 2017 Annual Meeting can be found below. As we issue new materials they will be published on the website.  Please also visit our Public Records Law Resource Page for a full range of publications and guidance concerning the New Public Records Law.
 Implications for Public Employers – The Regulation and Taxation of the Marijuana Act – With Sample Policy
The Public Records Law – Effective January 1, 2017

KTT, LLC

v.

Board of Assessors of the Town of Swansea

Responding to a Public Records Request – Municipal Timeline – Effective January 1, 2017
Municipal Modernization Act – A Practical Guide
Municipal Modernization Act – Public Procurement and Contracting
Municipal Modernization Act – Tax Administration
Open Meeting Law and Social Media – Potential Pitfalls
Public Building Construction Projects – Issues for Consideration When Drafting Warrant Articles
G.L. c.41 §111F (Injured on Duty Benefits) FAQ
Denial of Licenses for Non-Payment of Certain Municipal Charges – Amendment to G.L. c40 §57
---
Congratulations to our 2016 Super Lawyers & Rising Star
KP Law is pleased to report that Attorneys
Jonathan M. Silverstein
and
Deborah I. Ecker
were named as Super Lawyers for 2016. The designation is bestowed after a rigorous selection process, including independent research, peer nomination and peer evaluations. The final published list represents no more than 5 percent of the of the lawyers in the state of Massachusetts. This is the second time Attorney Silverstein, a Shareholder at the firm and a member of the Manager Committee, has been so recognized. He was also previously selected as a Rising Star. Attorney Ecker joined the firm as Counsel in 2014, and has greatly contributed to our insurance defense and litigation practice areas.
KP Law congratulates Attorney Janelle M. Austin, a Senior Associate at the firm, on again being named a Rising Star for 2016. The Rising Star selection process mirrors the Super Lawyer selection process, and is for lawyers who are under a particular age or in practice for 10 years or less.
Congratulations Jonathan, Deborah and Janelle on this special achievement!
---
Want to know more about our eUpdates and how you can get on our distribution list, or about any of our other value-added services? Contact our Managing Attorney Lauren Goldberg at 617-556-0007.
---